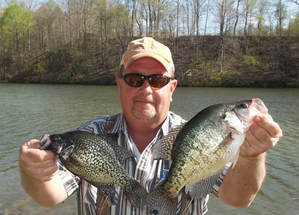 Fish, especially predatory game fish like crappie and bass, love to hide in, around, and under structure. Most of us fisherman know this fact. The challenge is finding fish structure in the right place and at the right depth for the time of year and day we're out fishing. Figuring all this out is part of the fun and challenge of our chosen sport. Many of the more experienced fisherman have found it useful to map the structures they've identified over the years at their favorite fishing holes. And believe me, it works! Every wonder why the old timers on a lake seem to be doing better than you? That doesn't mean they're necessarily better fishermen.
They just know where the fish are hiding!
Pictured above: Jeff Caldwell- The truth is found in the catch! Above are two of the many crappie Jeff's been catching off the structure he created, transported, and sunk in
​Fyrne Lake.
​Pictured Below: Brush Pile Map-A lake map can help you quickly get up to speed on early visits to new water. This particular map is of Fyrne Lake displaying its shoreline shape, depths and the placement of fish attracting structure. ​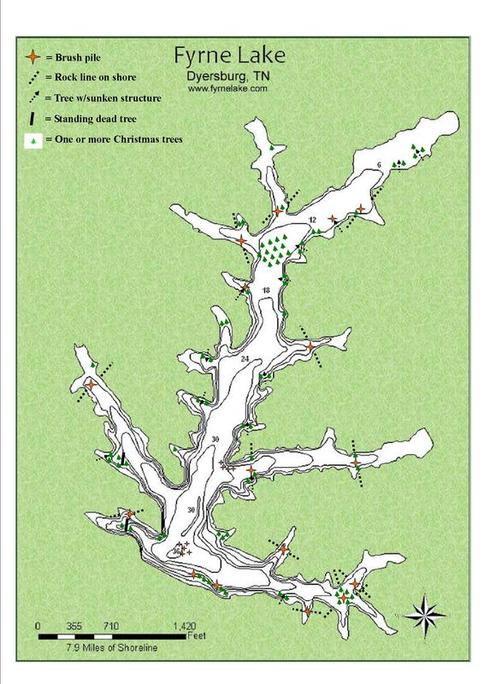 Want to increase your chances for a good day of fishing on a new body of water? Get the inside scoop from someone who knows the water. No luck? Stop at the closest bait shop, buy something (this softens them up to your question) and ask for help. They might even have a fishing map! If available, a fishing map saves a huge amount of time getting up to speed on a body of water by giving you an overhead view of its shape, various depths and, if you're lucky, the location of underwater brush piles and other natural or manmade fish attracting structures. A good example of a fishing map accompanies this article. It's of Fyrne Lake which is on my family's farm near Dyersburg. On it you'll see an outline of the shore, graduated water depths and various structure locations. It has helped many a fisherman get to know the lake in record time!
​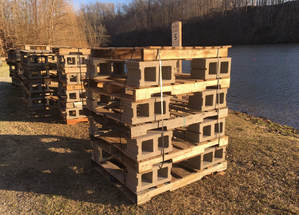 Structure is so important to the health of any lake's ecosystem as well as to the luck of any knowledgeable fishermen. Fyrne Lake virtually had no structure when we purchased it in 2004. Realizing its many needs, we immediately started working on improving the lake through removing unwanted fish, stocking desirable fish (various baitfish varieties and breeder size crappie) and adding structure. Over the years we've added a huge variety of materials for fish habitat starting with cutting trees to fall into the lake along its shoreline. Even though we only cut those likely to eventually fall on their own, I still mourned the loss of every tree. I just had to find another way! The lake needed massive amount of structure. What could we use?... I had an idea! Christmas was approaching and there would be hundreds of used trees that would eventually go to waste in the city's landfill or a nearby gully. Why not recycle them into Fyrne Lake? So I contacted the city and obtained permission to set up a collection point in town. New Year's came and the trees started piling up! The first year we recycled over 200 trees into the lake and in the years since we've added hundreds more! There was only one drawback. Once submerged, Christmas trees only last 3-5 years. The lake needed additional structure that would have staying power. After more research, I tracked down a gentleman from Paducah, KY by the name of Larry Harper. He was the inventor of a PVC based fish structure that he called at the time the "Oh-No Hang Fish Attractor". Later he partnered with Bill Dance and changed the name to the "Porcupine Fish Attractor". No matter what you called it, it worked! Over the years we've assembled hundreds of Mr. Harper's fish attractors in different configurations and sunk them near downed trees, by brush piles, and off points. They've made a difference. But, we still needed much more structure in the lake to come close to what the lake, the fish, and the fisherman really needed. Scanning the internet for ideas, I ran across a state fishery department using stacks of pallets for fish structure. Such a cool idea! Pallets are inexpensive (or even free) and I could imagine multiple ways to combine pallets creating long lasting structure sporting various sized cavities rising many feet from the lake's bottom. It wasn't long before there were huge freshwater reefs with multiple pallet stacks surrounded by their own forest of sunken upright Christmas trees (check out the depth finder image).
​
This detailed depth finder image reveals a freshwater reef
created by pallet stacks and vertically placed Christmas trees.
​
Playing with the pallets started my creative juices flowing! I began combining PVC pipe and corrugated drain line into large brush pile like creations. I also identified a low cost (or free) natural structure source, landscaping debris! I obtained removed hedge plants, small trees and larger trimmed branches from local landscapers to create multiple brush piles. The possibilities for structure are endless! And the cool thing is the immediate payoff. Fish are often caught off these new structures within days! Plus, the out-year dividends are immense by measurably increasing the number of fish the lake can support.
I was making progress, but I wasn't doing it all by myself. Early on several fishermen on the lake offered their advice. One in particular, Jeff Caldwell, had been watching me struggle with managing the lake from the beginning. He had often expressed to me how much the lake desperately needed more structure. Jeff was a crappie fisherman by choice, and a good one. There was nothing he enjoyed better than bringing home a mess of fresh caught crappie for supper! The sad truth was that despite its potential, Fyrne Lake wasn't providing the quality crappie fishing he was after. Most people would have given up and moved on. Not Jeff! He believed in the lake and my vision for it. And he was willing and able to help!
​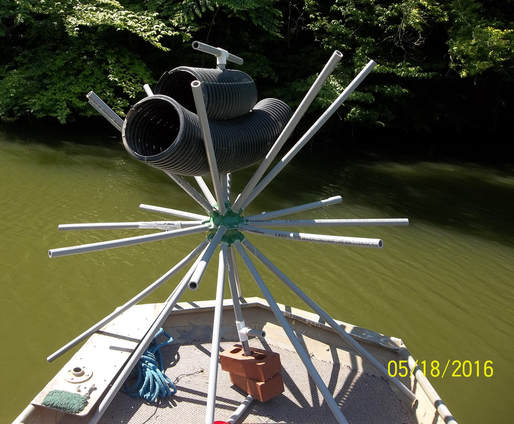 Jeff Caldwell Condos: Here's a porcupine fish attractor that was customized by Jeff Caldwell with two pieces of corrugated pipe providing more places for fish to hide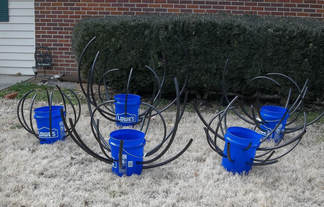 At first, Jeff started using the traditional starburst shaped porcupine fish attractors. Relying on his years of experience, he placed the PVC structures in coves and off points. It wasn't long before Jeff began catching fish. Other fishermen noticed his success and realized the advantage of creating their own structure. Controlling where and how deep material is placed and WHO knows where it's sunk is a fishing advantage! Sure, others would eventually find the structure on their own or when they notice you catching fish near it. But, you would still be the only one who knows the details of what was sunk and that is a HUGE advantage in knowing how best to fish it!

Jeff understood this secret and started experimenting in customizing his structures. Jeff added short sections of large diameter corrugated pipe to the starbursts creating dark recesses as fish hiding places. That helped, but he couldn't get out of his mind how productive stump areas are for crappie at Reelfoot Lake. Why couldn't he create his own! With the help of a few trusted friends, he rounded up 5-gallon buckets, filled them with concrete and added branch like appendages made out of varying lengths of black pipe. Not only did they look like stumps to the fish… they attracted fish! The ideas kept coming. Soon he began adding to their buckets a tall vertical PVC pipe with smaller perpendicular pipes attached to simulate branches. The creation appeared like a tree growing out of the bottom and stretching up toward the water's surface for as many feet as he chose to build. His most recent project involves vertically mounting multiple lengths of black pipe on pallets creating long lasting crappie stake beds. ​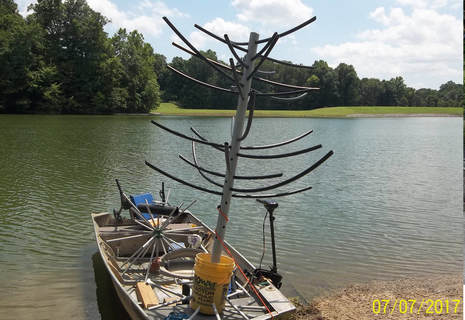 ​Here's one of the taller PVC trees in the back of Jeff Caldwell's boat, ready to sink.


The reality is that fish love structure, almost any kind of structure… IF it's placed where they want to be! Depending on the time of year, water temperature, and weather conditions of the day, fish will prefer different depths. The surrounding underwater topography also effects each structure's attractiveness. Being near a point or drop off is a big plus! Placing structure at the end of a fallen tree that stretches out toward deep water attracts fish like a magnet. Creating a line of structure spanning multiple depths will often hold fish year-round by allowing them to stay protected and adjust their depth as the seasons and water temperatures dictate. Anyone can create fish structure in water on their own land. With private lakes like Fyrne Lake and in public waters just ask permission and proceed as allowed. Jeff and his friends have done it and you can too! Feel free to copy any of our ideas or make up some of your own! Your only limit is your imagination and the capacity of your freezer!