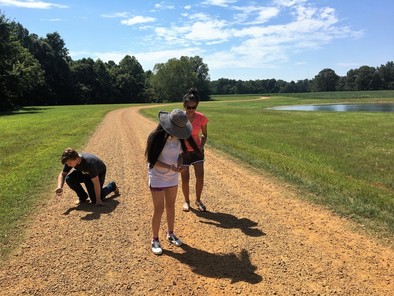 Do you remember walking on red gravel roads as a kid? If you grew up in our area of west Tennessee, I bet you did! These roads were everywhere and, if you paid attention to the gravel, you'd likely find a Lucky Stone. If you never found one, you missed out! Kids would keep these treasures in their pockets for good luck, like a rabbit's foot. (Do you remember those?) Why were they lucky? I think they were labeled as lucky because it took a little effort to find one and these stones were just plain cool! Looking nothing like the smooth gravel surrounding it, the Lucky Stone's cylindrical shape would stand out. Adding in their ribbed (1/8" - 1 ½" or more) length, you would have found something very unique and worth sticking in your pocket to examine more later. Native Americans thought these stones were very cool as well! They saw them as precious enough to use in jewelry (ever heard of Indian beads?). Obviously, their source wasn't red gravel roads but our area steam beds. Lucky Stones weren't the only material used by the Indians as beads. But they were often used by tribes where Lucky Stones were found.
What are Lucky Stones? Believe it or not, they are a fossilized body part (the stem) of a sea creature called a Crinoid that lived in our area of the country when it was covered by a shallow sea. This ocean's bottom was covered by these creatures… billions of them! They were joined by various species of sponges and corals, many of which have also left evidence of their life in the gravel. Crinoids were beautiful! They came in many shapes and sizes. Most variations shared common traits that included an attached base, long central stem and feather like extensions on their top making each look very much like a small palm tree, but it wasn't a plant at all. It was an animal that lived life like a coral, stationary and nourishing itself through filtering much smaller (often microscopic) animals and plants from the water (see picture with this article).
Interesting isn't it? I love hunting fossils even more than I do rock hounding (see my last article on geodes in July/August 2017 Southern Traditions Outdoor Magazine or on my blog at
www.fyrnelake.com
). Every fossil represents a picture of life in the past. Holding one transports me on an imaginary journey of what it would have been like to see it face to face. Imagine finding yourself in the water with a 50-foot Megalodon shark or huddling behind a tree in an ancient forest listening to the breath of a hungry T-Rex just 10 feet away!
I've hunted fossils all my life. Growing up in Florida, I was surrounded by fossils. I've found ice age mammal bones in the rivers, shark teeth on the beach, and even a whale bone during the excavation of a retention pond being dug behind my business. It's like a treasure hunt, history lesson, and detective mystery novel all wound into one! When I started spending more time in Tennessee I wanted to continue my hobby. It wasn't long before I discovered fossils below my feet, literally! That's when I picked up my first Lucky Stone on the farm. I recognized it immediately as a Crinoid stem section similar to the ones I found in streambeds on my grandmother Fyrne's farm in Indiana. I discovered the same shallow sea that covered parts of Tennessee also extended over much of the Midwest including where my grandmother's farm was in southern Indiana. Traces of this fossil bearing red gravel can be found throughout these states where the varying shoreline of this ancient ocean tumbled the gravel smooth along its beaches. Like seashells, the Crinoid stems mixed with the gravel and were eventually buried to be uncovered many years later by erosion or, in the case of red gravel roads, excavated from pits.
The red gravel used for our road was from a pit near Troy, TN. Could there be a similar gravel deposit on my own farm? Sure enough! Halfway down the slope of the Chickasaw bluff (where my farm is located) are outcroppings of this red gravel. In fact, each of the three land parcels that make up that section of my farm had a history of being mined for gravel. I discovered three old pits and one had even been used for county roads as recently as the 80s. "This is cool!", I said out loud to myself. It didn't take long before I started finding my own Fyrne Lake crinoid stems.
The reality is that it's easier to find fossils in gravel when it's spread out for a road or parking lot. My older son, Jeremy, and his girlfriend Sarah especially enjoyed hunting the pavilion parking lot near the lake on our farm. I was amazed at the variety of fossils they discovered… literally pounds of crinoids, corals and sponges! Jeremy even discovered a fossil impression of a Trilobite! Trilobites were a very cool family of extinct arthropods that was made up of 1000s of species ranging from 1/10 to 30 inches in length most looking very much like a segmented horseshoe crab (see picture of fossilized trilobite). The fossil impression he found was like a footprint in the rock that revealed the creature's unmistakable shape. A three dimensional fossil like the one shown in the picture would have been more cool. However, to find ANY trilobite fossil in red gravel is rare making this find a real treasure!
My son Jeremy is as hooked on hunting fossils as I am. During his childhood we hunted them together in phosphate pits, along road cuts, in rivers, and on beaches. He even crawled around with me at the pond construction site behind my Florida business where we found the whale bone. He's now almost 30 and we still hunt together, concentrating most of our energies on the holy grail of fossils… DINOSAUR bones! However, the red gravel on the farm still draws Jeremy's attention whenever he visits. Are you ready to start hunting your own fossils? Maybe even start a Lucky Stone collection? Just in case you find your eyes wandering down toward the red gravel below your feet, check out the pictures of what we've found in the gravel at Fyrne Lake. Happy hunting and may the Lucky Stone be with you!
​
---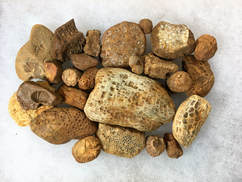 ​There's more than just Crinoid fossils in the gravel! Here are a few examples of the many sponges, corals and shells fossils we've found on the farm.
---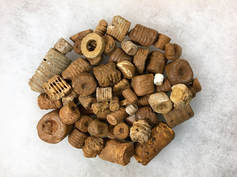 We found these lucky stones in the red gravel from the roads on our family farm. Each one is actually a fossilized stem section of an ancient sea creature called a Crinoid.
---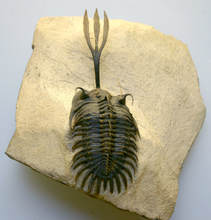 ---